The 2014 regular season has come to a close, which means it is time to start thinking about who gets the most coveted awards in football. The biggest individual honor when it comes to the regular season alone is the MVP, Most Valuable Player. This award has recently turned into the MVQ, the Most Valuable Quarterback, but this year there is a player who is the most deserving and he doesn't even play offense….or kinda doesn't play offense….Well, he plays defense, but plays offense too. He kinda just does everything.
His name: J.J. Watt, listed as the defensive tackle for the Houston Texans but also plays some tight end.
                (Image from Pix Shark)
Before I make my case for him, I'll run through some other candidates and why they fall just a tad bit short of him.
Aaron Rodgers- Aaron Rodgers, the best quarterback in the NFL in my opinion, once again had a phenomenal year. His stats were great, as they always are but I've always been one that doesn't just go by the stat line. There is much more than that. Let's start in the opener, a game in Seattle in which the Packers got drubbed by the Seahawks and Rodgers could not find it in him to target Richard Sherman even once.
Then came a game in Detroit. The Packers lost 19-7 and Rodgers threw for just 162 yards. Now, I do realize that is a top notch defense and a road game, but Rodgers didn't play his best.
Last, a game in Buffalo against the Bills in mid-December that should be fresh in the memories of many. Aaron Rodgers for the first time in his career threw multiple interceptions, two, without a single touchdown. He completed a miserable 40.4% of his passes for a quarterback rating of 34.3 and a QBR of 17.2.
Rodgers finished second in the league in QBR at 82.6, just barely behind Tony Romo's 82.8.
A very superb season. Just not the best season.
             (Image from Rant Sports)
Tom Brady- Tom Brady had an excellent season, especially considering what most people and "experts" were saying about him four weeks into the season. Brady pretty much stunk for the first four weeks of the season, which started with the opener against the Miami Dolphins. Brady and the Patriots offense were shutout in the second half of a opening day road loss to a division rival. After a decent game against the Adrian Peterson-less Vikings and escaping Oakland with a seven point win (thanks to the defense), Brady played a putrid game on Monday Night Football against the Chiefs, a game in which things so out of hand he got benched and head coach Bill Belichick was asked if there was a quarterback change to be made in New England.
To Brady's credit, he probably has had the least amount of star power in his offensive arsenal out of any superstar quarterback. But since week 5, he played at a spectacular level and climbed all the way up to fourth in QBR for the season at 74.3.
He really got going when tight end Rob Gronkowski was back to full strength. Some Patriots supporters can make a case for Gronk as the puzzle piece on the team that really kick-started the team this year. If Brady isn't even undoubtedly THE guy on his team, how can he be THE guy of the NFL?
Again, a great season, but not enough to merit a league MVP.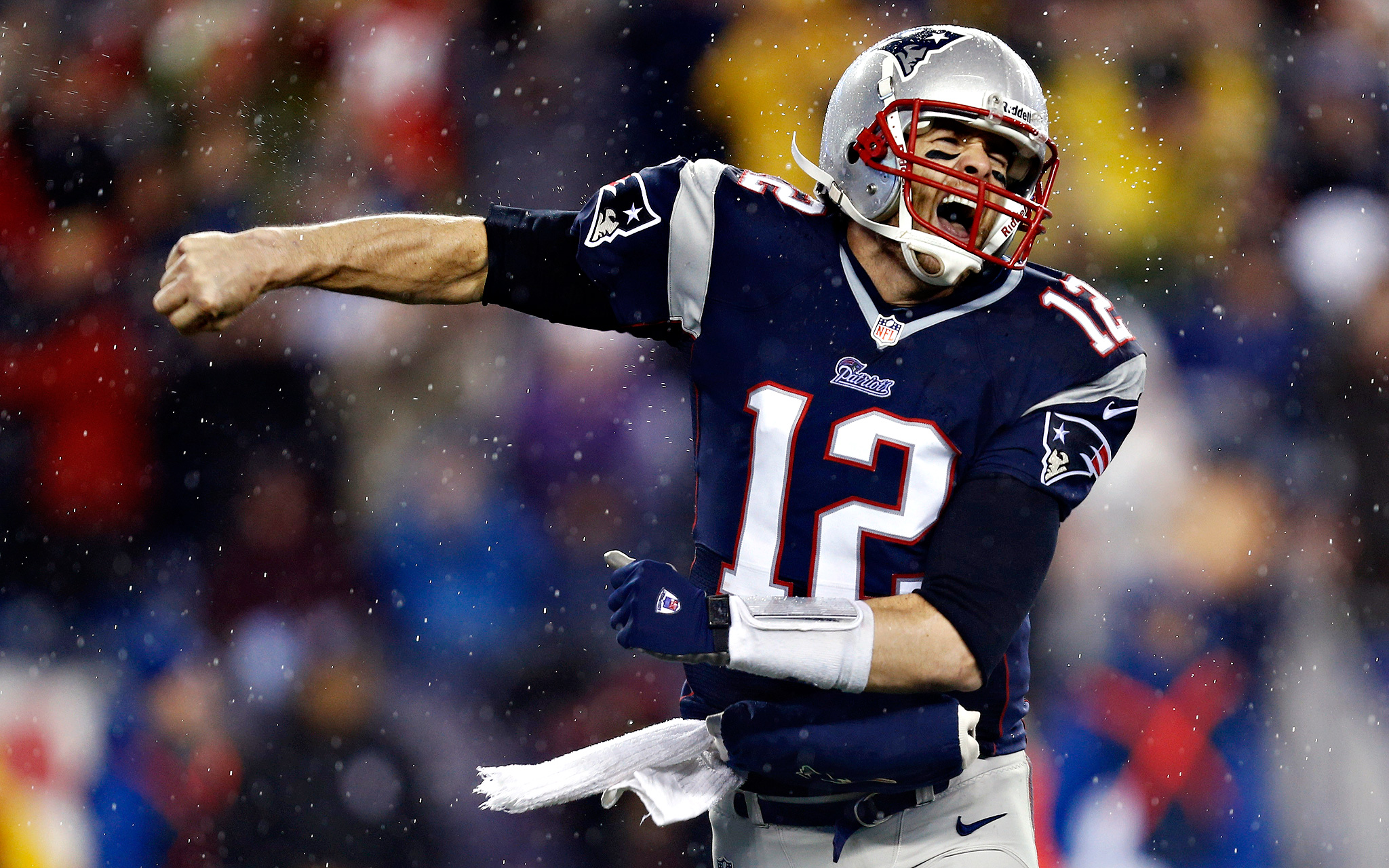 (Image from CSNNE)
Tony Romo– Tony Romo had a sensational year, arguably the best quarterback in the NFL, just talking about the 2014 season alone. He showed great toughness battling through his well-documented back pain and reportedly some issues with his ribs. He finished on top in the league in QBR at 82.8 and quarterback rating 113.2 as well as the best completion percentage in the NFL at 69.9. Statistically, the MVP is Tony Romo, hands down. However, there is more to the story than the stats. Romo had a great year, but the guy behind him, Demarco Murray, just happened to be the leading rusher in the NFL and a guy who broke Emmitt Smith's team record for rushing yards. Smith by the way is the all-time leading rusher and a hall of famer, so that is no small feat. As a result, Romo faced a lot more eight man boxes, which opened up his pass game. When he was throwing, he was throwing to arguably the best receiver in the game in Dez Bryant, who by the way set the team mark by catching 16 touchdown passes. A lot of Bryant's success is because of Romo and his accurate and prolific passing, no doubt, but throwing against an eight man box is much easier than when a defense is gearing up to stop the pass.
Like Brady, Romo can't be the MVP in my opinion because arguably he isn't even the MVP of his own team. Demarco Murray has something to say about that. Many Cowboys fans will point to the game against the Arizona Cardinals to point to Romo's value, but that was against a great defense and the Cardinals were still at their top quarterback at the time. There is some debate if the Cowboys would have won the game even with Romo. But the bottom line with Romo is this: Great season, maybe the best quarterbacking season, but he isn't even the unquestioned MVP on his team, so how can he be the MVP of the NFL?
     (Image from Epoch Times)
Demarco Murray– Demarco Murray had the best season as a runner of any running back in the NFL, which is shown by him leading the NFL in rushing yards. Not only that, but as mentioned earlier, he passed the great Emmitt Smith for most yards and carries in a season in franchise history. Murray started the season with eight consecutive games running for triple digit yardage, an NFL record and ended up hitting at least 100 in 12 of the 16 games.
Even Murray's "bad" games weren't all because of his lack of ability. He had a season-low 58 yards against the Indianapolis Colts, but that was because the Cowboys blew them out of Jerry World and plus, Murray had broke a bone in his hand the week prior. He rushed for just 79 yards against the Cardinals, but that was with Weeden at quarterback and against a great, great Cardinals run defense.
Which leads to my point as to why he isn't the league MVP. Murray has one of his teammates on this list of MVP candidates, so in my opinion he can't really be the MVP of the NFL, even though he had a great season.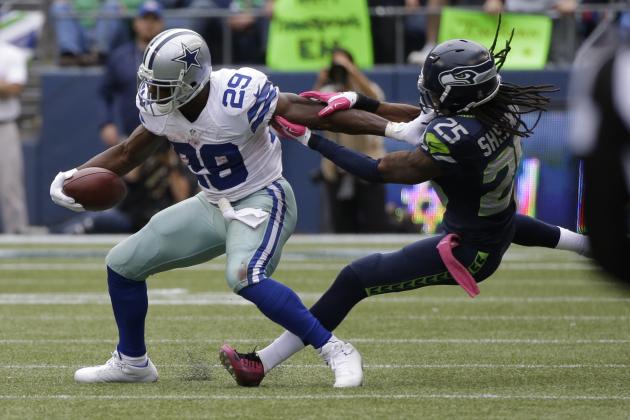 (Image from Albany Democrat Herald)
***Point of Note: The thing with Brady, Romo, and Murray not being the most valuable on their own team so they shouldn't be MVP is only because I believe J.J. Watt was so dominant with so little help, he gets the edge. There are definitely scenarios in which the MVP is not the undoubted most valuable player on his team, but he either sets big-time NFL records or there isn't another dominant force in the league that year like Watt is this year. If Watt is taken out of the equation, my MVP would be Tony Romo.***
Now let's get to the REAL MVP: J.J. Watt–
J.J. Watt had one of the best season by a defensive player in recent memory. In recent years, Watt has had the likes of Connor Barwin and Antonio Smith to help him dominate the opposing offensive line, but this year he had just a bunch of no-namers. Jadeveon Clowney barely played this year so that made Watt not only the focal point of the defensive line, but of the whole defense and almost the whole team pretty much. His impact has been profound.
Watt finished the year with 20.5 sacks, just two shy of the single-season NFL record. He became the first player with back-to-back 20+ sacks seasons, showing that even after teams knew of his dominance, they still couldn't stop him. He had an 80-yard interception return for a touchdown, another fumble recovery for a touchdown, a sack for a safety in the final game… just to signify a few key big-time defensive plays. He also had three receiving touchdowns as a tight end this year and tallied 59 total tackles on the season. Watt also played every single game this season and as of early December, when he was on the field, the opposing QBR was 48. When he came off, the QBR rose to 71. When he was on the field, opposing runners ran for 3.9 yards per carry. With him off, the number rose to 5.1 yards per carry.
Since 1986 when Lawrence Taylor won MVP, only quarterbacks and running backs have been recipients of the award. That needs to change this year.
          (Image from CBS Cleveland)
J.J. Watt, you da real MVP.